-
-
-
-
-
-
-
-
-
-
-
-
-
-
-
-
-
-
-
-
-
-
-
-
-
-
-
-
-
-
-
-
-
-
-
-
-
-
-
-
-
-
-
-
-
-
-
-
-
-
-
-
-
-
-
-
-
-
-
-
-
-
-
-
-
-
-
-
-
- Ordering Info / Terms
-
-
-
-
-
-
-
-
HOMEPAGE
VISIT OUR ONLINE COMMUNITY
PRODUCT SEARCH
Star Wars Reproduction Lightsabers
We stock the available Limited Edition, scaled and Force FX Lightsabers painstakingly reproduced by Master Replicas from the Hit Film Series Star Wars.





The lightsaber is the weapon of a Jedi, an elegant armament of a more civilized time. In comparison, blasters are crude, inaccurate and loud affairs. To carry a lightsaber is an example of incredible skill and confidence, dexterity and attunement to the Force. When deactivated, a lightsaber appears as a polished metallic handle, about 30 centimeters long, lined with control studs. At the press of a button the energy contained within is liberated and forms as a shaft of pure energy about a meter long. The saber hums and scintillates with a distinct sound. Its shimmering blade is capable of cutting through almost anything, save for the blade of another lightsaber.

In the hands of a Jedi, a lightsaber is almost unstoppable. It can be used to cut through blast doors or enemies alike. Using the Force, a Jedi can predict and deflect incoming blaster bolts, and reflect them back at the firer.

Here follows just a couple of the Star Wars range, you can find our full product listing under 'Star Wars' using the menu to your left
Dath Sidious Limited Edition Lightsaber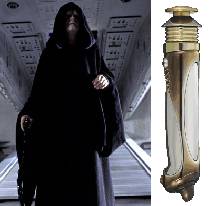 This officially licensed replica lightsaber exactly reproduces all of the intricate, ornate curves and unique paint finish of the deadly weapon of the evil Dark Lord of the Sith - Darth Sidious.
Copied directly from a prop used in the filming of Star Wars: Revenge of the Sith, each replica features -
Machined and die cast metal construction
Unique prismatic paint finish
Antique finished 18K gold plated accents
Custom design display case and limited edition plaque
Prop story and certificate of authenticity

Mace Windu Force FX Lightsaber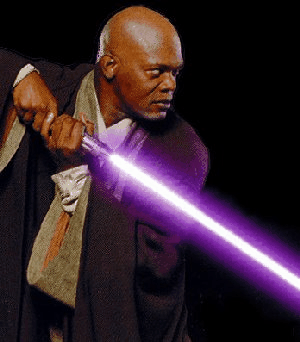 Official reproduction of Mace Windu's lightsaber from Star Wars: Attack of the Clones, Episode 2.
Enhanced glowing purple blade with realistic power-up and power-down light effects. The power-up and power-down light effects are produced by a string of 64 super-bright LEDs that ignite sequentially inside the blade.
Features five motion sensor controlled sound effects digitally recorded from the movie: power-up, idle hum, swing, clash, and power-down.
Blade has 3 built-in motion sensors for super sensitivity: 2 for detecting movement and 1 for detecting the impact of the blade.
Durable metal hilt looks and feels like a real lightsaber.
Sturdy blade is permanently attached to the hilt.
Approximate dimensions: 44.3" L x 2.4" H x 2" W.
Comes with a handsome stand for tabletop or wall display.
Uses 6 AA batteries (not included).


A couple of our customers Reviews on the Luke and Anakin lightsabre (lightsaber);

Well got my Luke Skywalker lightsaber yesterday.
It came well packed in a Master Replica box with plenty of polystyrene inside.
Anyway, onto the good stuff!! First impressions were good. I'd seen the more expensive replicas - the actual accurate size ones which the handle is supposed to be smaller then the ones Loz is selling. Therefore I expected the hand grip to be large to house the 6 AA batteries, however this is not the case. The batteries slot into a cylinder shaped cartrdge which is fairly compact and small. I thought it might also be very heavy in the handle but suprisingly its not - it balances out quite well.
The detail on the hand grip is excellent. Its a shame the two triangular shaped fake lights don't light up though. The switch is probably the down side as its in an awkward place and can't really be reached holding it with one hand - you have to hold it with two to comfortable turn it on. Other wise the hand grip/handle/hilt or whatever the proper name sword buffs call that part(!) is excellent. Its made of both metal and plastic and looks the part.
Onto the actual blade. First thing you notice is its extremely tough plastic!! You can really whack this thing and it won't break. Dissapointingly, when you switch it on it practically lights up instantly. I don't really know what I expected, but I suppose I thought it would be like the light strips you get on fish tanks where it kind of slowly filckers on! Again I was dissapointed with the brightness and shade of green. Now I might be jumping too quickly because it could be down to the batteries! Y'know what its like, you never have enough 'brand new' batteries! So four of them were new and two of them were pulled from something else!! So I need to try it with a fresh set of 6 batteries. But on first try, the blade is not as green as it looks on images and in the films - its more of a minty green!
Despite this, it still looks good in the dark :-D
Sound - the sound is excellent. Theres a constant background hum - move the blade around and the swing sound will play along with pitch change! Strike something and (I think - well it seems to be the case) you get different clashing sounds depending on what/how hard you strike!! The sound is quite loud also.